A new model for professional learning — Ed.L.D. alum launches online platform to foster peer learning, with an eye toward creating greater impact.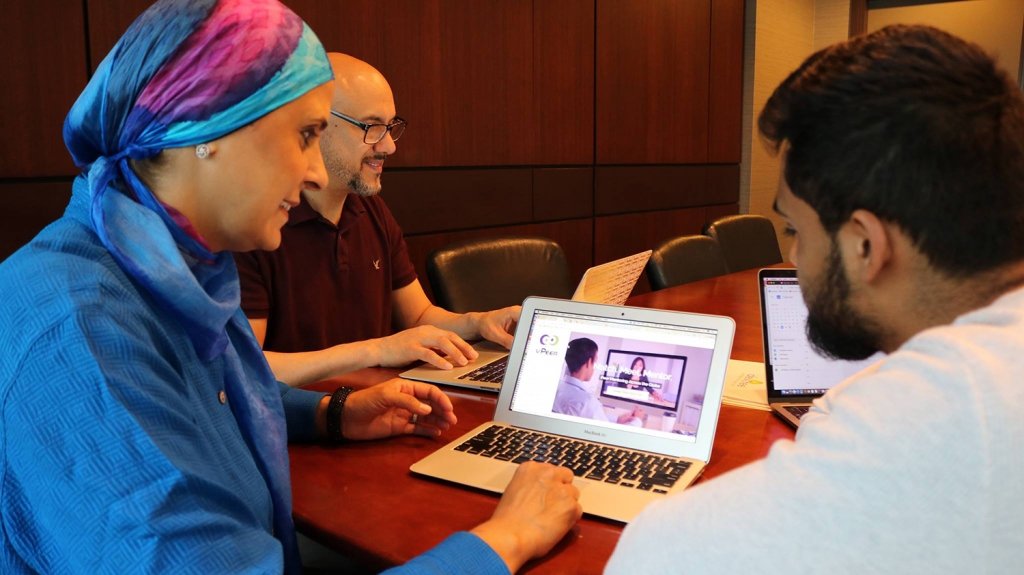 It's a test that's as easy as a few clicks and swipes on your phone to find a good plumber or a date for the night. But for professionals looking to grow in their fields of expertise, finding a mentor might be one of the few things it's hard to do online. That could change with the launch of vPeer, a new professional learning platform designed to build impactful relationships between professionals looking to learn and share their knowledge.
"I kept thinking someone would have done this, [but] you couldn't go online and match with someone who could be a peer-to-peer mentor," says Dilara Sayeed, Ed.L.D.'15, founder of vPeer, who began to develop the idea for the platform while she was a student at HGSE. "I think we're ready for the next phase of building relationships that actually help us get better at our craft and make greater impact."
Mentorship has always been vital to Sayeed's decades-long career, which has brought her into a wide range of spaces, from teaching to nonprofit leadership and most recently politics, as a 2017 candidate for a seat in the Illinois House of Representatives. A common thread — helping people meet their potential — runs through all her work, she says, and it was something modeled for her early on.
"It started when I was a Head Start kid in Chicago and didn't say a word until eighth grade because I didn't feel I had the tools to be my own person," Sayeed says. "And then the mentors who helped me become a teacher, to taking on the challenge of Harvard — these were mentors who saw something in me. When I ran for office it was exactly that, too, to make sure the resources, like jobs and education, were there. And vPeer came out of all that."
The platform is built on three pillars: match, meet, and mentor. Through a unique algorithm, vPeer connects participants from around the world based on areas where individuals want to learn and teach. After sign-up, they receive matches through a "vPeer card," essentially a virtual business card that will list both areas of expertise and areas where they seek professional growth. Participants — who will act as both mentors and mentees, learners and teachers — can then meet online or in person, and later share resources through a virtual "Learn Bank" available on the website. It's also "gamified," in that users get ratings and achieve new levels on the way to becoming content masters.
Initially, vPeer will focus on a half-dozen professions, including business, healthcare, and education, with plans to expand areas of expertise. Sayeed is working to ensure that the platform reaches those who historically have had the most difficulty finding mentorship — women, people of color, and people of low income — working in partnership with university alumni organizations and other membership groups to better identify underserved individuals. While there are paid aspects to vPeer's services, Sayeed says there will always be a free option that provides access to all.
"Part of the mission is a social-impact mission to ensure that everyone has access to efficient, effective mentoring," says Sayeed.
While Sayeed hadn't planned on starting a business when she enrolled in the Ed.L.D. Program, she credits the program for providing "access to the incredible resources Harvard has that allow students to think outside-the-box." This included a residency at the Harvard iLab, which gave her the space to figure out how to make her idea a reality.
The platform launched in August, and already there has been positive buzz. Sayeed has presented vPeer at innovation festivals in Chicago, Nashville, and Switzerland, and she was recently nominated for the 2018 Chicago Innovation Awards and the 2018 Women Tech Founders Awards.
"I think we're in a complex world where we are going fast, but we're not going very far," says Sayeed, who believes that all the followers and likes people collect through traditional social media platforms aren't leading to the types of deep connections vPeer can provide.
"It's resonating with people," Sayeed says. "Right now, there are 1 billion people in the workforce. The older generation has built institutional knowledge and great skills. They can share their knowledge and rejuvenate themselves. But they also have a lot to learn from Millennials born in the digital age."