WiSTEM has hosted eight different groups of companies so far, with between nine and 14 members in each seasonal cohort. Here's a few of them you should know.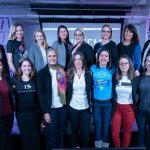 By Alton Zenon III
The tech incubator 1871 has been influential in Chicago's tech scene since its founding seven years ago, and has done much to help foster our growing ecosystem.
One of the incubator's core programs, WiSTEM, takes companies with a least one woman as a founder or co-founder, with a technology-focused or technology-enabled business model, and puts them through a 12-week program with a curriculum designed to address the specific challenges faced by women in the tech industry and help founders capitalize on the opportunities available to them.
It provides participants with technology resources, a community of knowledgeable individuals, access to capital, media exposure, mentorship, office space and more, with mentors chosen and course content designed around the specific companies in each cohort.
WiSTEM has hosted eight different groups of companies so far, with between nine and 14 members in each seasonal cohort. Here's a few of them you should know.
Kaizen Health: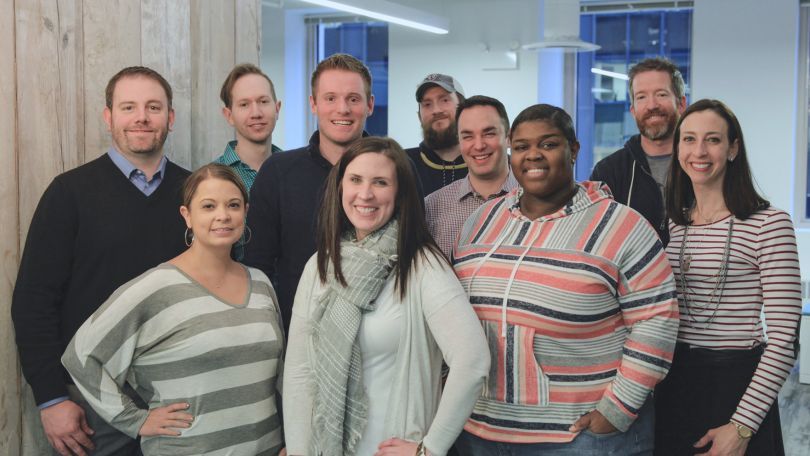 What they do: Kaizen Health operates a network of transportation services dedicated to making sure healthcare patients, pregnant women, seniors and others get to their scheduled appointments on time. It has partnerships with Lyft and Medical Transportation Management and uses a fleet of rideshare vehicles and taxis, small buses, non-emergency ambulances, wheelchair-accessible vehicles and more to get people where they need to be. The company was a member of WiSTEM's third cohort and was also chosen as one of our 50 startups to watch in 2019. Its momentum has increased over the last year following a $3.8 million raise in May that allowed it to grow its team and area of operations.
Meet the founder: Before starting the company in 2016, co-founder Mindi S. Knebel held a vast number of positions at companies of all types, including strategy and operations consultant at a management consulting firm, finance and business operations specialist at a veterinary management company, human resource generalist at a make-at-home pizza company, and even an anesthesia technician at University of Iowa Health Care. Knebel is also a board member and mentor at a number of nonprofit and healthcare organizations.
Happenstance: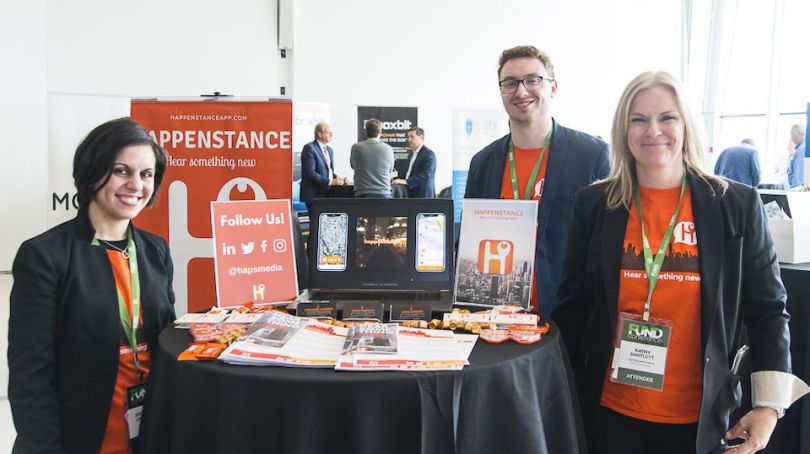 What they do: Happenstance, a member of WiSTEM's sixth cohort, is a mix of DIY journalism agency and entertainment network focused specifically on Chicago. It works like this: You download the app and select a list of content topics you're interested in, which can include sports, food, landmarks and more. As you move about the city, short, podcast-like audio-vignettes about the topics you're interested in make themselves available as you enter their geographic 'listening range.' The location-specific bits of content are created by other Chicagoans and serve as mini chapters of the city's current and past story.
Meet the founder: Stephanie Choporis and Kathy Bartlett co-founded the company with Lewis Gardner in 2015. Choporis, who received a master's degree in journalism from Northwestern University, has around a decade of experience in editorial work and most recently served as vice president of the Chicago Journalists Association. Bartlett has over 20 years of entrepreneurial experience and has founded half a dozen companies across industries that include real estate and financial lending.
vPeer: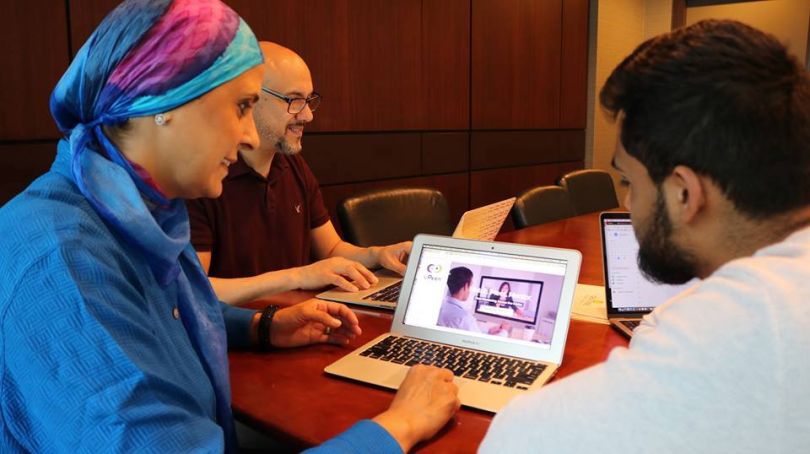 What they do: vPeer, a member of WiSTEM's most recent cohort, is a platform that connects individuals, particularly from underserved communities, with peer-to-peer mentors — or lets users become mentors themselves. Participants select areas of interest they would like to learn or teach in, and using an algorithm, the service matches them with others either locally or across the globe. vPeer facilitates in-person or video meetups and has a bank of resources for peers and mentors to access, add to and pull from. The company launched last year and is currently beta testing its platform.
Meet the founder: Founder and CEO Dilara Sayeed has over 20 years of experience in education and public service. She spent 10 years as an award-winning fifth- and eighth-grade teacher at Naperville Community Unit School District 203 before going on to lecture at Benedictine University and eventually becoming a coach for the School Leadership Program at Harvard University. Following that, Sayeed went on to lecture at Northwestern University and came in second place during a 2017-2018 campaign to be a democratic representative of Illinois' 5th District.
TraknProtect: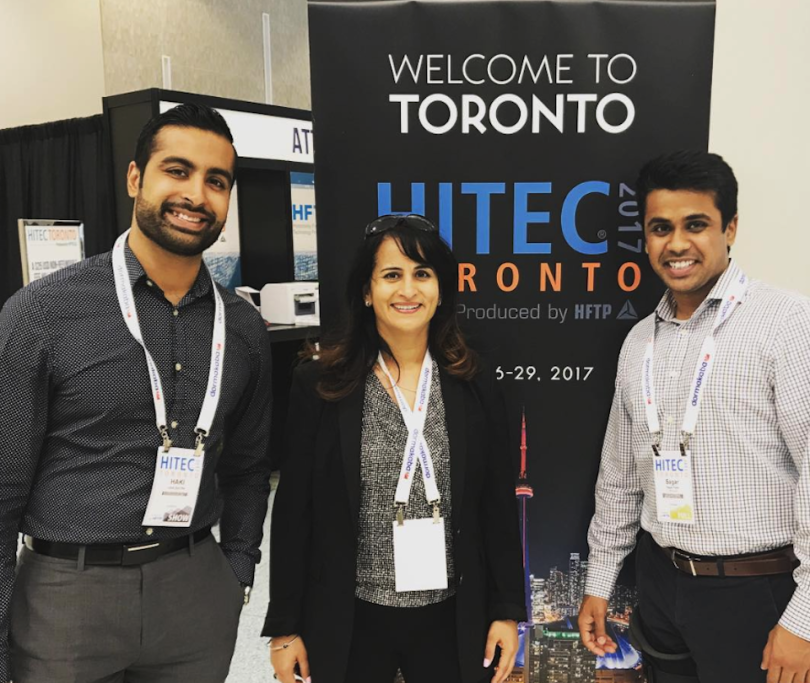 What they do: A member of the first-ever WiSTEM cohort, TraknProtect serves companies in the hotel and hospitality industry, and their staff, through its tracking-hardware implementations. Staff are offered a one-click panic button that can pinpoint an employee's real-time location whenever pressed and notify security of their need for assistance. It also offers inventory and vendor tracking services that can easily monitor the location of items like refrigerators and cribs, as well as provide insight and heatmaps into where third-party entities are actually spending time in the building.
Meet the founder: Co-founder Parminder Batra originally started the company with moms in mind. She wanted make geo trackers for mothers to place on commonly lost household items, but she then pivoted to offering the service primarily to hotels. Batra's background is in law — she worked in a number of legal positions and was a practicing attorney in Toronto before coming to Chicago to eventually launch TraknProtect in 2013.
Packed With Purpose: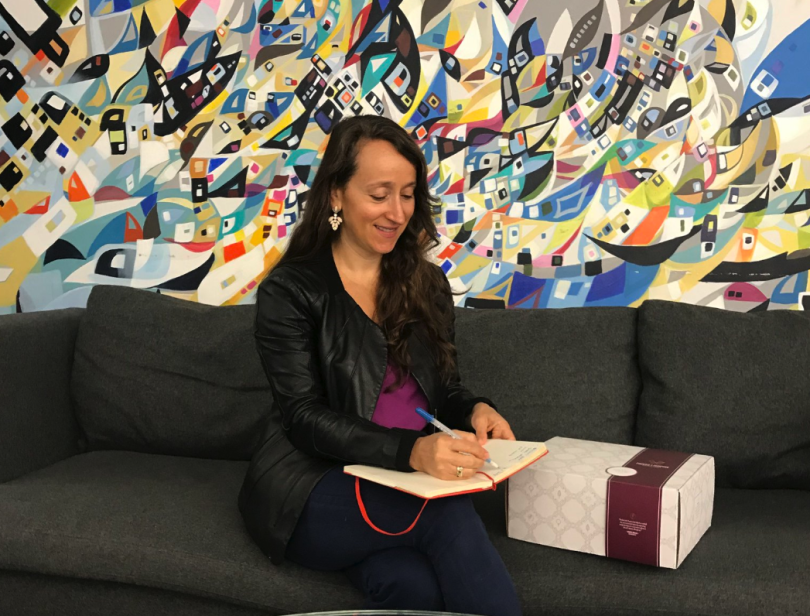 What they do: Packed with Purpose is an e-commerce site that offers consumers and companies curated items and gift sets of high-quality products made by third parties that also do social good. Partnered companies include an artisanal coffee roaster that aids adults with disabilities, a premium soy candle producer that helps abused and homeless women, a non-GMO chocolate maker that works to teach children and families about healthy nutrition, and numerous others. Gifts ordered from the site can be customized with personal messages and company branding to make the benevolent purchases more individualized.
Meet the founder: Leeatt Rothschild launched Packed with Purpose in 2016, but prior to that, she spent a couple years as company director and vice president of services at Mission Measurement — a firm that helps businesses evolve and streamline their social impact initiatives. Rothschild's background in product-based philanthropy was spurred by the two years she spent as an international development specialist in the Peace Corps, where she helped rural farmers start an organic fertilizer business.
truCrowd: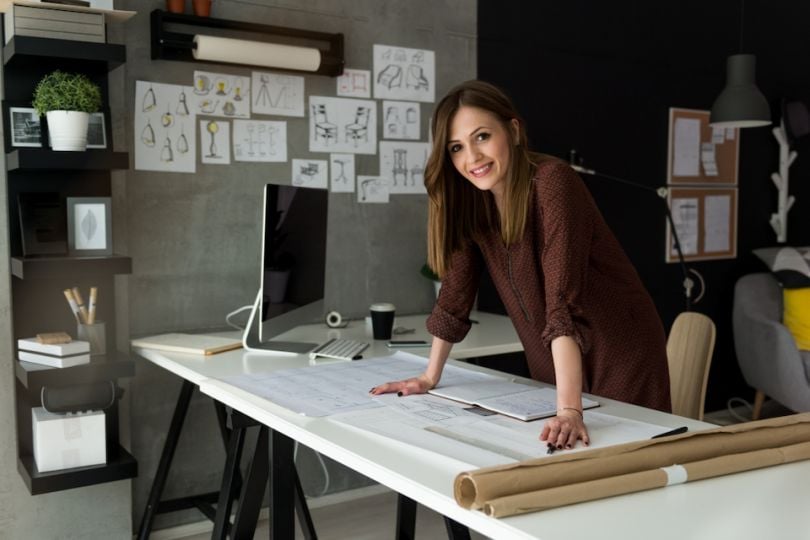 What they do: A member of WiSTEM's sixth cohort, truCrowd is an equity crowdfunding platform that allows everyday investors to back companies they believe in, and grants entrepreneurs the ability to fund their business. New businesses spring up constantly, but mom and pop may not have the resources, contacts or time to chase down investors for large funding amounts — they may be better served by small to middle-level investments from their peers.
Meet the founder: Claudia Ecobici founded the company in 2013. She received an MBA in marketing at a university in France before enrolling in two executive programs at Northwestern University's Kellogg School of Management. What followed was a lengthy career in marketing and business development, and her last role prior to truCrowd was global marketing manager at the telecommunications company SRVR, LLC. Fun fact: Ecobici is fluent in English, French, Spanish and Romanian.